Product Features
Your Dah Sing Credit Card will automatically reload your Octopus account when the Octopus balance is insufficient. You can choose to reload HK$250 or HK$500. The auto reload service is available for different types of Octopus, including the On-Loan Octopus, Sold Octopus and Smart Octopus. You can now link AAVS to up to three Octopus for yourself, with your Dah Sing Credit Card(s). You may also apply for this service for your family to earn more rewards.
Besides applying via mail or fax, you can also use the Octopus App to instantly change your AAVS auto-reload amount to HK$500.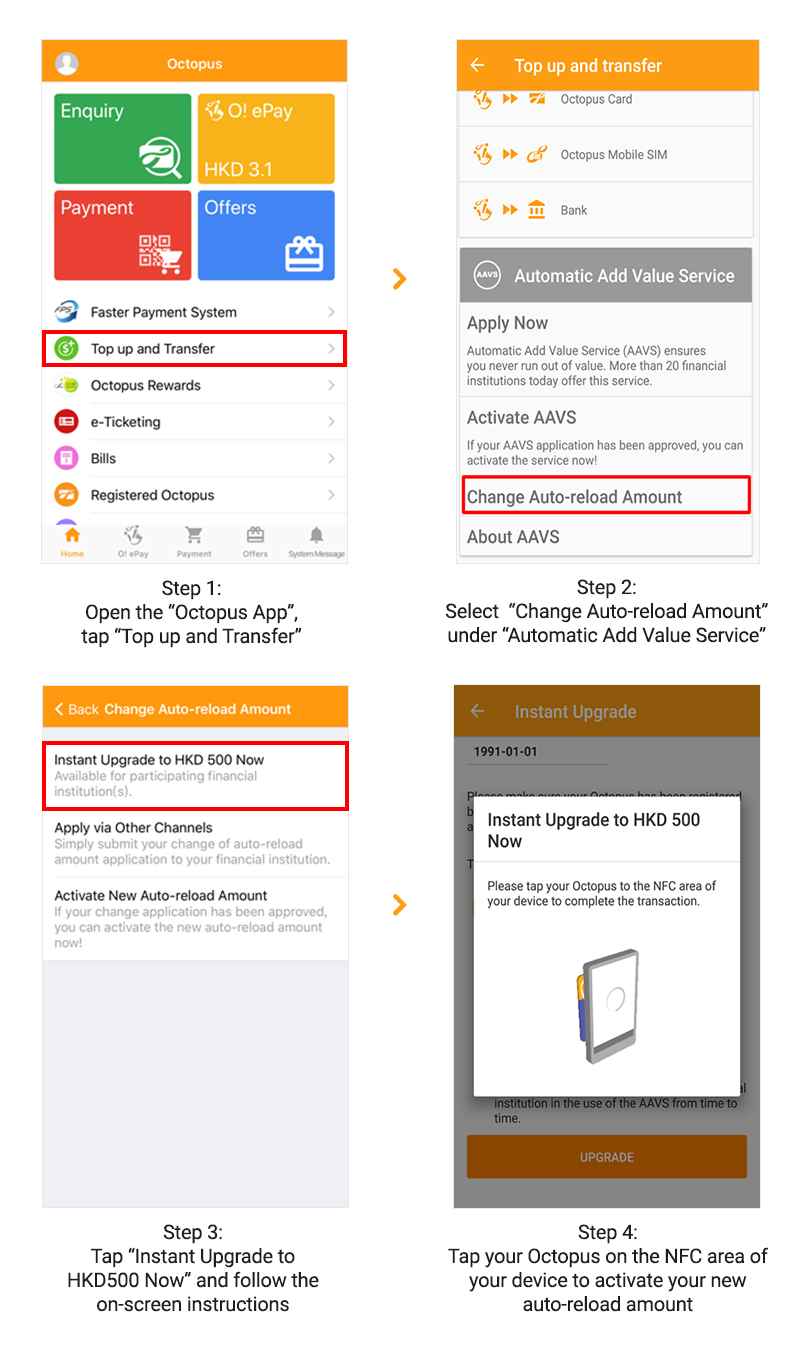 Auto Add-Value can earn bonus point/cash rebate, every Add-Value is an Add-Reward. You will be rewarded on every Auto Add-Value.
Enjoy interest - free repayment period for all auto reload transactions and every auto reload transaction will be shown clearly on your statement.
anchor
Act Now!

Enquiry Hotline 2828 8168
Octopus Customer Service Hotline: 2266 2222
To borrow or not to borrow? Borrow only if you can repay!
Subject to relevant terms and conditions. For details, please click here.
The serivce only applies to customers holding Principal Card and Supplementary Card ("Eligible Cardholder") of the Credit Card or Co-brand card issued by the Bank ("Eligible Card"). The Bank's Cash Card, Corporate Card, Purchasing Card, Business Card, Gift Card, Private Label Card, "Smart Choice" Balance Transfer Program Account and Cash Conversion Plan Account are not eligible.
If you are holding an Eligible Card and aged 18 or above ("Eligible Cardholder"), you may apply for AAVS to be linked to an Octopus belonging to you, up to a maximum of three Octopus.
You can also apply for Octopus AAVS to be linked to an Octopus belonging to your family members, friends or relatives aged 12 or above (you and such other persons together are referred to as the "Applicants"), up to a maximum of three Octopus in aggregate. However, each Octopus can be linked to one AAVS Account only. If such other persons (applicants of Section B on application form) are holding Supplementary Eligible Card under your name (applicant of Section A on application form), related AAVS will be settled under the Supplementary Eligible Card account. If such other persons are not holding Supplementary Eligible Card under your name, related AAVS will be settled under your Eligible Card account (Dah Sing Credit Card account of Section A on application form). The Principal and/or Supplementary Eligible Card(s) of Applicants must be valid and in good credit standing, otherwise the application may be rejected.
All applications require 4 to 8 weeks for processing. Once the application is accepted, the Bank will send notification letter to the monthly statement address of principal Eligible Cardholders.
First-time AAVS application is free. HK$20 non-refundable handling fee will be charged for the applications of transferring the AAVS from one bank to another or re-activation of AAVS. The application fee for a Personalised Octopus is HK$100 (including a deposit of HK$50, an initial stored value of HK$30 and a non-refundable handling fee of HK$20. The above fee is required by Octopus Cards Limited and the Bank will charge the fee from the applicant's designated Dah Sing Credit Card account on behalf of Octopus Cards Limited. The above fee is not applicable to enjoy the Bonus Point Scheme or Cash Rebate.
If the stored value of applicant's Octopus is zero or negative, or remaining value plus the maximum negative value (HK$35) is not enough to cover the intended value deduction, applicant's card will automatically be reloaded with HK$250/HK$500 by applicant's designated Dah Sing Credit Card account. Each Octopus can only be reloaded automatically once a day.
Should applicants who opt for auto-reloading HK$500 per transaction want to switch to another bank that only provides the option of auto-reloading HK$250 thereafter, applicants should either change the auto-reloading amount to HK$250 or cancel the Dah Sing Credit Card Octopus AAVS before switching to another bank. Applicants are required to pay Octopus Cards Limited the required handling fee.
The reward shall depend on the reward scheme of the Credit Card account and the reward shall be subject to the terms and conditions.
The use of an Octopus (including Personalised Octopus) and the AAVS respectively are subject to the terms of the Conditions of Issue of Octopus (the "Conditions of Issue") and the AAVS Agreement issued by Octopus Cards Limited, as amended from time to time, and terms of application form. For details, please refer to the related application form or visit www.octopus.com.hk.
The terms and conditions contained herein shall form part of the Agreement governing the use of Dah Sing Credit Card and shall be construed accordingly. In case of any conflict between these Terms and Conditions and the Agreement, these Terms and Conditions shall prevail.
The Bank has the right to accept or reject the application of Personalised Octopus or Octopus AAVS without the need to provide reason.
The Bank reserves the right to amend these terms and conditions or cancel the offer at any time without prior notice. In case of dispute, the decision of the Bank and Octopus Cards Limited shall be final.
In the event of discrepancies between the Chinese version and English version of these terms and conditions, the Chinese version shall prevail.
This service/product is not targeted at customers in the EU.